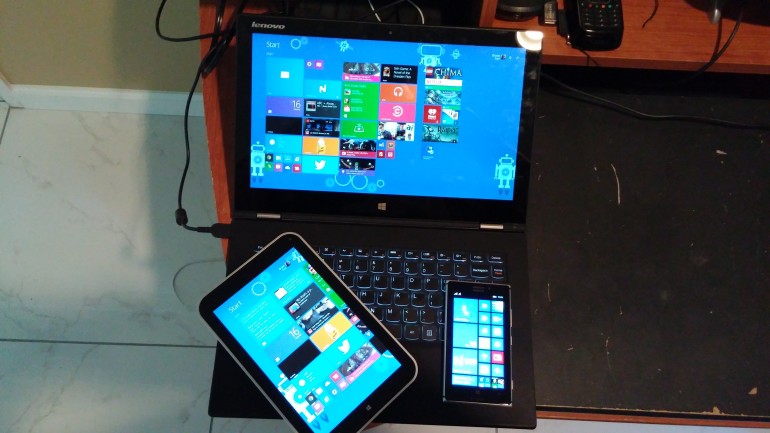 One Windows
August 17, 2014
Let me tell you a secret. I love Windows. I love Windows 8.1. I love Windows phone 8.1. I love Windows 8.1 tablet. But I hate the Windows ecosystem. So Microsoft decided to open a store. They didn't open a store for .exe installs only mobile/touch friendly apps which was a complete bone head move. Why? Because they alienated the millions of Windows 7 users out there. More users more money for developers. The store is only apps. They don't combine Music, Books, Magazines and all the other crap everyone else has. Android does it best by including everything that you can buy in one spot.
So Microsoft said they were shifting into a devices and services company. Which in my opinion is stupid. Microsoft needs to turn themselves into a company that has shit people want to buy. Microsoft thinks that office 365 is a cool service. Yeah our services are pretty much the software that you use to work. Office. Office is not cool. It reminds us of work. People don't want that shit. They want music, books, magazines, games and apps. Why in the hell are you only working on the barebones shit like onedrive and office. What is stopping you from buying Barnes and Nobel s  book business. You can not only buy the digital version but have the option of buying the hard copy version in a store.  Here's another tip Microsoft. You can turn all of the Barnes and Nobel stores into Microsoft Stores. With training, virus removal and hardware sales that include PC's, phones, games and etc. A one stop shop showcasing your software, hardware and providing a place where normal people can get help.
So if you want to really be a services company here are the services you should bundle. Below are just examples.
Music
Books
Office
Onedrive
TV shows/Movies
Here's the different options that you should have
Baby plan $10 a month
Free music streaming
1 ebook a month (rental)
office 365 1 computer
unlimited photos onedrive
Family plan $40 a month (baby plan)
free music 5 devices
2 free ebooks a month 5 devices (rental)
office 365 5 devices
1 Free Movie or TV show rental
unlimited photos onedrive 100gb of  "shared" onedrive
Family plan $100 a month ultimate plan
free streaming 5 devices
5 free ebooks a month (rental)
office 365 5 devices
4 Free TV  Movie rentals per month unlimited TV shows
unlimited photos and 1TB of  "shared" onedrive
If Microsoft were to implement a $100 dollar a month plan that gave me the above offerings I would be sold. People would spend more on your services in 3 months than Windows. Now that would be a reason for me to ditch Google services for Microsoft Services.