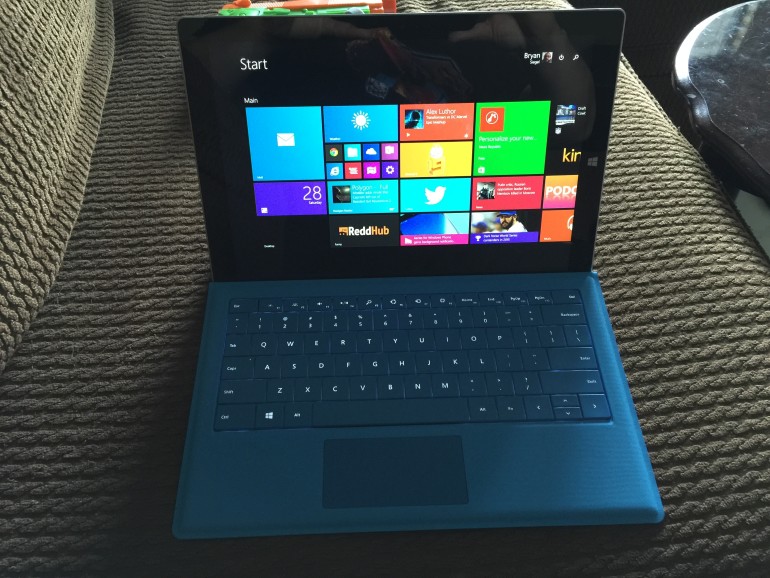 My Surface Pro 3 Initial Impressions
February 28, 2015
Yes I bought a Surface Pro 3. Even though I stated that I'm going all Apple. The main reason that I bought this machine is because of laziness. I can't tell you how many times that I've sat there with my Ipad Air 2 looking at some development tutorial to wish that my laptop was there right next to me so that I can give it a shot. Now you might say well Bryan why don't you just use your Mac to view videos. Well I own the 17 macbook pro. That thing is 50 pounds. My Ipad Air 2 is my couch companion. I don't only watch development videos but I tend to watch tech videos as well. But for those few occasions where a really good tutorial comes along the Surface Pro 3 serves my needs. I've also found that the Surface Pro 3 fits in my life in ways that I couldn't imagine (I've only had the machine for 3 days). The first was as a notepad. I had a big meeting at work and used the Surface Pro 3 as a note taking machine.
Hardware
There isn't a single video or picture that will do this machine justice. It's thinner and lighter than anyone can explain. It's like a hint of magic mixed in with supreme build quality. The (not included) keyboard is an engineering marvel, from it's amazing key travel to solid build. I'm using the Surface on my lap cross legged while typing this very post.
It's fast. Zero lag. I've never seen Visual Studio load this fast. Ever. On any machine.
My Surface Pro 3 turned heads when I brought it into work. Only about 25% of the people I spoke to have seen the commercial or know what the machine was, which I thought was kinda weird because their product placement and commercials are everywhere for this thing.
The Bad
The magnets on the kickstand in the back are kinda strong. Opening it up takes more force than I would like, but that's no biggie. Another is the steps it takes to open it up. I fumbled my first two tries, but opening up this machine isn't like normal laptops.
Conclusion
So far so good. I'm pretty happy with my purchase. The thing is that I was going to purchase a Lenovo T440s. My plan was to upgrade the ram to 12gb and add a 1tb ssd after I got it until the whole Superfish thing happened. If you don't know what Superfish is then Google it. All I can say is that I will never buy another Lenovo product ever again. But back to the Surface Pro 3. I love it. It's a great machine and if you scared about buying this machine with the Surface Pro 4 just around the corner you won't be disappointed. This machine is future proof.