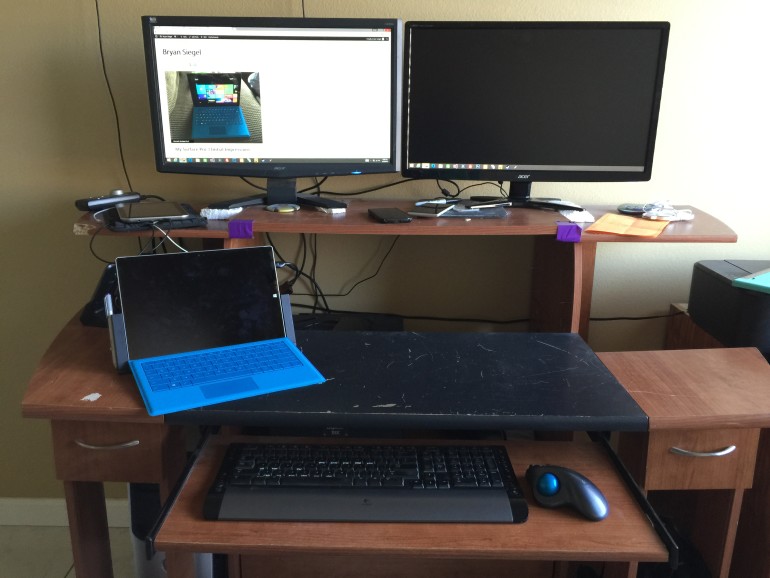 My Surface Pro 3 Review
April 26, 2015
I have owned the Surface Pro 3 for 2 months. It's my tablet, laptop and desktop machine. I've used it as my "everything" device. Before I get into my review keep in mind I'm a heavy user. I need a high-end machine because I'm a Web Developer by day but I also wanted a machine to play games on, read tech news and to check out Youtube videos. My main reason behind my Surface Pro 3 purchase was that I wanted a hybrid machine that worked in numerous scenarios to cut down on cost of multiple devices and also to move away from OSX.
The Build
I'm not going to get into specs. If you want to know the specs you can Google them. I'm going to mention what you can't find on the "me too" tech blogs out there. The Surface Pro 3 is a solid machine. It's light and super thin. The only gripe/concern that I have is the kickstand. When the kickstand is extended it feels simi loose and it's a little hard to move because the magnets are a tad strong on the machine. While the kickstand seems solid today my concern is how solid will it be in two years. The front firing speakers are good but not as loud as my Macbook Pro, but it gets the job done.
Real World Use
The first time that I brought my tablet to work everyone asked me what the Surface Pro 3 was. This machine turns heads. The keyboard type cover is made of magic fairy dust. It performs better than I expected. The only complaint that I have is the material that it's made of. The material of the type cover is made of a cloth material that's easy to get dirty. I wish they would have made it in a plastic or aluminum material so that it's easier to clean. I have zero issue using the type cover in my lap or while laying down.
The Surface Pro 3 Dock
This computer with the Surface Pro 3 dock has turned my Surface Pro 3 into an awesome developer setup. So far I have 2 monitors, an external drive, keyboard, mouse and multiple micro usb cables plugged into it for charging my devices. Words cannot explain the magic of this dock. Getting both monitors setup was a pain though. I had contacted support twice and have read through the forums to get both monitors working. It appears there's an issue with getting the display adapter in the dock and on the Surface working at the same time. I got it to work by going into the control panel (not the modern UI) to get the displays to work. So keep in mind if you're considering a multiple monitor setup getting monitors that have a daisy chain connection is the way to go.
Conclusion
I love this machine. It's replaced a tablet, laptop, desktop and a notebook. It's a powerful and versatile machine. I'm extremely happy with the purchase.