Who Cares About Bryan Siegel?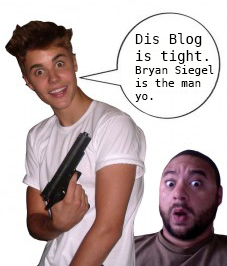 My name is Bryan Siegel. I'm an uber geek that's into code, gadgets & Star Trek. I'm a father of 3 that is lucky enough to get paid to do what he loves and blogs once in a while. You can follow me on Twitter if you have nothing else or better to do. This is my personal blog. I write about crap that I care about and once in a while get my grammar right. One thing that you will notice is that I don't have comments. This blog was started in 2007 as a personal project and morphed into random brain farts. My goal isn't fame or cash it's collecting my thoughts through my different stages of life and reflecting on my progression as a web developer and lover of gadgets.
Keep in mind this is just a blog. It doesn't show my family life or my goofy personality. I keep my family life very private and tend to leave that part of my online identity behind the wall of Facebook.
For those with no life and wanted to know who I am Bryan Siegel is a damn fine human being who plans on taking on the planet one post at a time. I've planted my seed with 3 wonderful children (sorry kids for the looks) one wife (I wouldn't be able to handle more than one), and a few dogs who will probably end up on this blog someday (even though I'm fighting it). I've lived (and drank beer, lots of beer) in places like Frankfurt Germany, Kuala Lumpur Malaysia and Paris France. I love Cali for all it has to offer which is why I've decided to live here. I have currently staked my claim in Riverside California. I don't know whether I should thank you for visiting my blog and being apart of my life or petty you, but anyway Enjoy!
Disclaimer: The opinions expressed herein are my own personal opinions and do not represent my employer's view in any way.